Wrong! I was all wrong! When Lo-Fi Hip Hop came up a few years ago, I thought it was just a fad that will pass as fast as it occurred. But instead it has become a real movement, spreading into all kinds musical genres.
I have to admit that, despite my initial skepticism – why would you want to bring back the limited, compressed, hissy sound of cassette tapes? -, I fell in love with Lo-Fi Hip Hop and all its rich, colorful and beautifully degraded sounds.
Now, in order to create that sound in your own music you need the right tools. Old, dusty cassette recorders, cheap microphones and vintage samplers are certainly a good choice and fun to use, if you want to go the hardware route. You'll find that kind of stuff on eBay, flea markets, pawn shops and so on.
If you prefer producing in the box, for the sake of production speed, flexibility and mobility, this list of my 5 favorite Lo-Fi plugins is for you.
Let's begin with two cassette tape emulation plugins.
Aberrant DSP Sketch Cassette II
Sketch Cassette II is a plugin by a young plugin company called Aberrant DSP. It looks like a fun little plugin but under its hood lurks a fat greedy Lo-Fi beast of a plugin. Feed it with any kind of audio and it will reward you with a sound from subtly fattened to heavily stoned to completely rotten, dusty and distorted.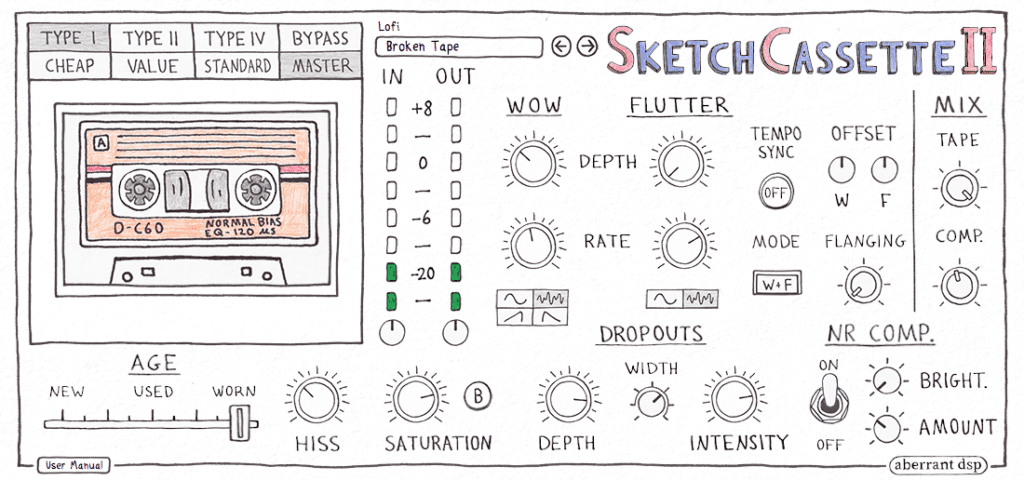 The compression and the distortion sections alone are worth the modest price for this plugin. 12 cassette tape types, wow, flutter, dropouts and tape age that you can tweak to taste plus the ability to tempo sync the wow and flutter make this a super versatile plugin.

>> Read the FULL REVIEW of Abberant DSP Sketch Cassette II >>
> Check Price for Abberant DSP Sketch Cassette II >>">>> CHECK PRICE> CHECK PRICE for Abberant DSP Sketch Cassette II >>"> > Check Price for Abberant DSP Sketch Cassette II >>">for Abberant DSP Sketch Cassette II >>
Waves Factory Cassette
Cassette from Waves Factory is another cassette tape emulation plugin with a slightly different concept resulting in tasty tonal flavors that beautifully complement those of Sketch Cassette. Four tapes to choose from plus three tape machine modes alone deliver a wide range of tonal colors.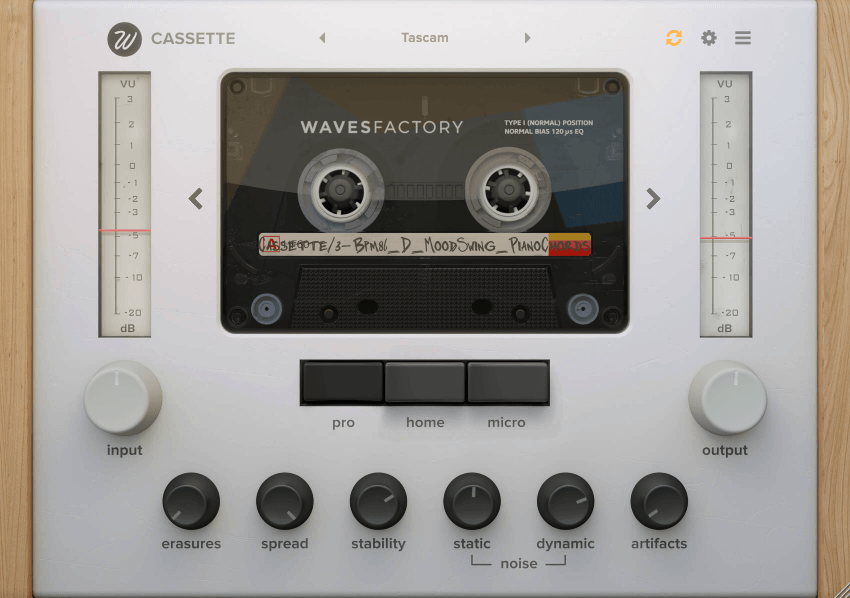 Want your beats sound like they were recorded with the built in mic of a cheap 70s cassette recorder? The sound of the second, third or fourth generation copy of your music? Waves Factory Cassette got you covered.
Start tweaking the 6 parameters on the surface for quick results. Or play with the 20(!) additional parameters under the hood and go deep down the Lo-Fi rabbit hole.
>> Read the FULL REVIEW of Wavesfactory Cassette >>
D16 Group Decimort 2

In essence D16 Group Decimort 2 is a bit crusher and sample rate reduction plugin. But it's way cooler than the average bit crusher.

With its preamp and filter section, used in conjunction with the digital degrading you can create an astonishingly wide range of tonal textures. From subtle crunch to the emulation of iconic vintage samplers such as the MPC 60 or the SP 1200 to total digital degradation Armageddon, it's all right there at your fingertips.

Decimort 2 comes with more than 100 presets that represent the broad sound palette you can get out of this cool plugin.

>> Read the FULL REVIEW of D16 Decimort 2 >>

Baby Audio Super VHS

In terms of style, Super VHS by Baby Audio is the winner of this list. But it's not its looks that got it into this selection.

Super VHS is straight forward in terms of operation. It delivers yummy results in no time because the user interface is kept super simple. Just dialing in some Heat, Drift and Wash will bring any dead synth to life. Clicking the Magic button catapults that synth to outer space with a wide, rich and beautiful 80s chorus.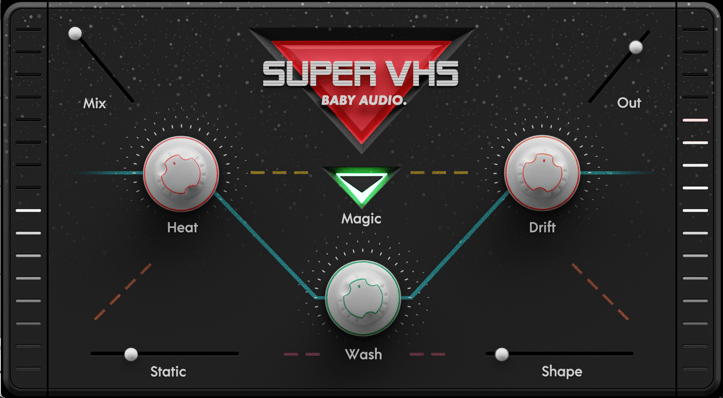 You can't alter the parameters of the Super VHS except for their intensity. Which makes it fast and easy to use and won't get in the way of your creative flow. However, if you like to have more in depth control and more versatility, the next plugin may be for you…

>> Read the FULL REVIEW of Baby Audio Super VHS >>

XLN Audio RC-20 Retro Color

RC-20 Retro Color from XLN Audio is the Yoda of Lo-Fi plugins. With its 6 modules plus global filters, it really is more like a Lo-Fi plugin suite than just a plugin. The 6 modules are called Noise, Wobble, Distort, Digital, Space and Magnetic and although the names pretty much speak for themselves I thought you might get a clearer picture with this brief description:
Noise – A noise generator with a wide range of beautiful Lo-Fi noises to choose from. Vinyl crackle, tape hiss, hum, white and pink noise, etc…
Wobble – Adds wow and flutter
Distort – A range of different distortion algorithms.
Digital – Bit crusher and sample rate reduction
Space – A lush reverb
Magnetic – Emulation of degraded tape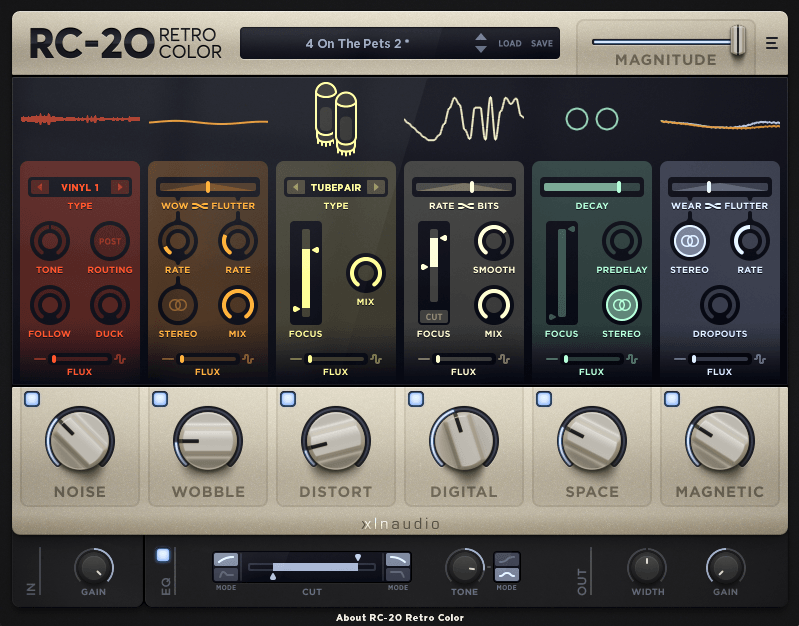 Each module is quick and easy to tweak with just a handful of parameters, plus an intensity knob. But it's the interplay of the 6 modules plus the global filter and dry/wet controls that give this plugin Lo-Fi super powers.

While it's easy to quickly come up with tonal results ranging from beautiful vintage texture to total audio destruction the RC-20 Retro Color never loses it's musicality.

>> Read the FULL REVIEW of XLN Audio RC-20 Retro Color >>

Time For Lo-Fi Texture

These 5 Lo-Fi plugins – Sketch Cassette, Cassette, Decimort 2, Super VHS and RC-20 Retro Color – deliver a wide range of beautiful tonal colors, ideal for producing Lo-Fi beats. They are fun and easy to use and come with a good number of presets to get you started and give you an idea of the wide range of tones each of these plugins is capable of.

I suggest you give the plugins a test drive and experience for yourself how far they can take you and your Lo-Fi beats. I bet you'll be heavily inspired and have a good time producing with any or all of them.

Which Lo-Fi Plugins do you use? Please share your experiences and leave your comments below!